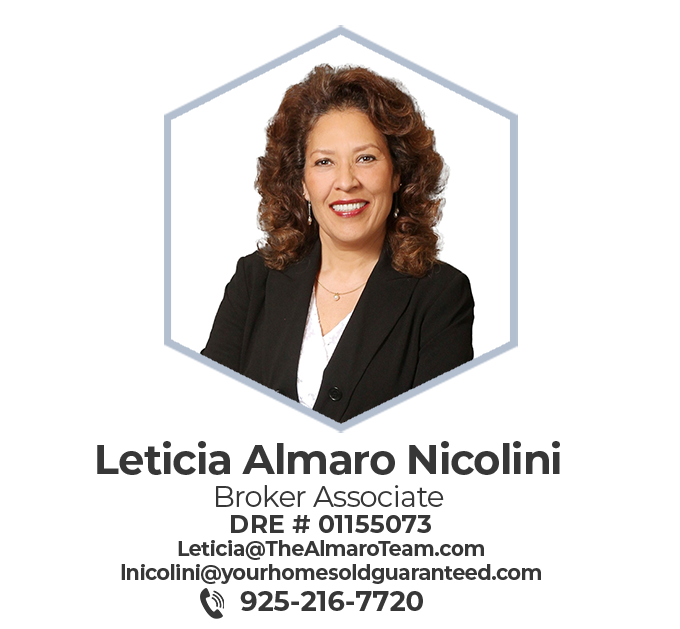 Leticia has been serving all of Contra Costa and Alameda Counties since 1999. She is the founder of The Almaro Team and is leading her group to become YHSGR – The Almaro Team top residential real estate brokerage in Contra Costa County. She has built the foundation, her business strategy and the development of The Almaro Team since 2015. Leticia's marketing expertise, sales strategy, negotiation skills, interpersonal talent and the support of her team, result in maximizing sale prices, providing higher returns on her client's investments.

As a Broker Associate with over 20 years of residential real estate knowledge, Leticia consistently provides an array of services. She has over 5,000+ buyers in waiting and has a track record in selling homes above asking at the highest cost per square foot. She is also known for shortest days on market, has received numerous 5-star testimonials and makes the home buying process hassle-free. Leticia has extensive experience listing and selling homes, bank-owned properties, and numerous successful short sales.

She offers an objective approach to real estate allowing data results and client objectives speak volumes. She takes a thoughtful, gracious, and helpful approach in every interaction she has with her buyers and sellers. For Leticia, each transaction is unique, personal and confidential. She welcomes all new clients and invites them to build lifelong relationships, increasing their wealth by carefully investing in real estate.