Sunday, August 1, 2021 / by Leticia Almaro Nicolini
Boy it's HOT and not just outside.

You do not have to be a weather person to predict the weather this time of year. We all know… it is the hottest time of the year. But that is not all that's hot. The economy is red hot too. By all measures the best economy in 20 years or so. This is good news for most of you reading this, however there will be some exceptions. There always are. An example is the seller who needs to sell, hit a certain number but because of their location misses their target. The buyer benefits. In most cases the seller is benefiting from the buyer paying more. Most homeowners who do NOT have to sell of course know this and will hold back on buying or selling. That will of course impact supply and demand. Results right now? RED HOT opportunities!


How does this impact you? Well, it is a HOT time to invest in real estate. Single family, multi-family, even farmland. If you did not get the memo, here is a special clause from our Buyer and Seller Agreements of our VIP Client Program enabling past clients of ours to create additional wealth thru real estate. VIP CLIENT PROGRAM: Seller ___ does OR ___ does not wish to participate in Broker's VIP Client Real Estate Investor Program (REIP), whereby Seller will receive notices of free real estate investor trainings and notices of real estate investment opportunities by mail, email or phone at times when investment opportunities arise. Seller may opt out of The REIP at any time. Seller is never obligated to invest in real estate. So, if you or anyone you know likes the idea of making money in real estate using other people's money, please contact us right away… while these HOT investment opportunities are available. Making gains in asset wealth is nice! I especially like it because it allows me the opportunity to GIVE more. How about you? As you probably know, we donate a portion of our income to some AMAZING worthy causes! Like B Walker Ranch, one of the area's leading non-profits.
A Real Estate Team that Gives Back and remember, your Referrals help the Community
Like our Buyer Satisfaction Guarantee: Love the home, or we'll buy it back! Or our Seller Guarantee: Your Home Sold or We'll Buy It! And we guarantee that a portion of our income WILL go to a very worthy cause like B Walker Ranch


B Walker Ranch is still on target to be a flagship property that will be a model program that can be duplicated in communities everywhere.


BWR, a 10.63-acre parcel, is developing a variety of programs for adults with autism designed to foster self-advocacy by recognizing their individual needs and harvesting a sense of purpose within a farm environment. When our children graduate from high school at 18 they have an opportunity to go onto the next step of their life. There are few next steps for those children with autism. We have an epidemic in this country as 1.5 million children are turning 22 and aging out of their existing program with little or nowhere to go, it's critical.


If you would like to find out more about B Walker Ranch and Sponsorship Opportunities visit their website by clicking HERE Life moves fast and we are eager to make the Home Selling and Buying experience a smooth and rewarding one. Who do you know considering buying or selling a home that you could refer to our real estate sales team? Not only will they benefit from our award-winning real estate service, but a very worthy cause will too. It is very easy to refer your friends, neighbors, associates or family members who are considering making a move.
Thank you in advance for your referrals! The best number to reach me: 925-216-7720.

In over 2 decades of helping thousands of families sell and buy the place they call home, we have met so many wonderful, loving, caring people. We are so grateful. Thank you for reading this month's Homeward Bound and for the many referrals over the years. Rest assured when you refer family and friends they are in good hands, we treat them like our own.


Go Serve Big!!!
Leticia Almaro Nicolini
& The Almaro Team
925-216-7720
Please read the story enclosed! How B Walker Ranch came up with this Idea to help Adults with Autism. Check it out.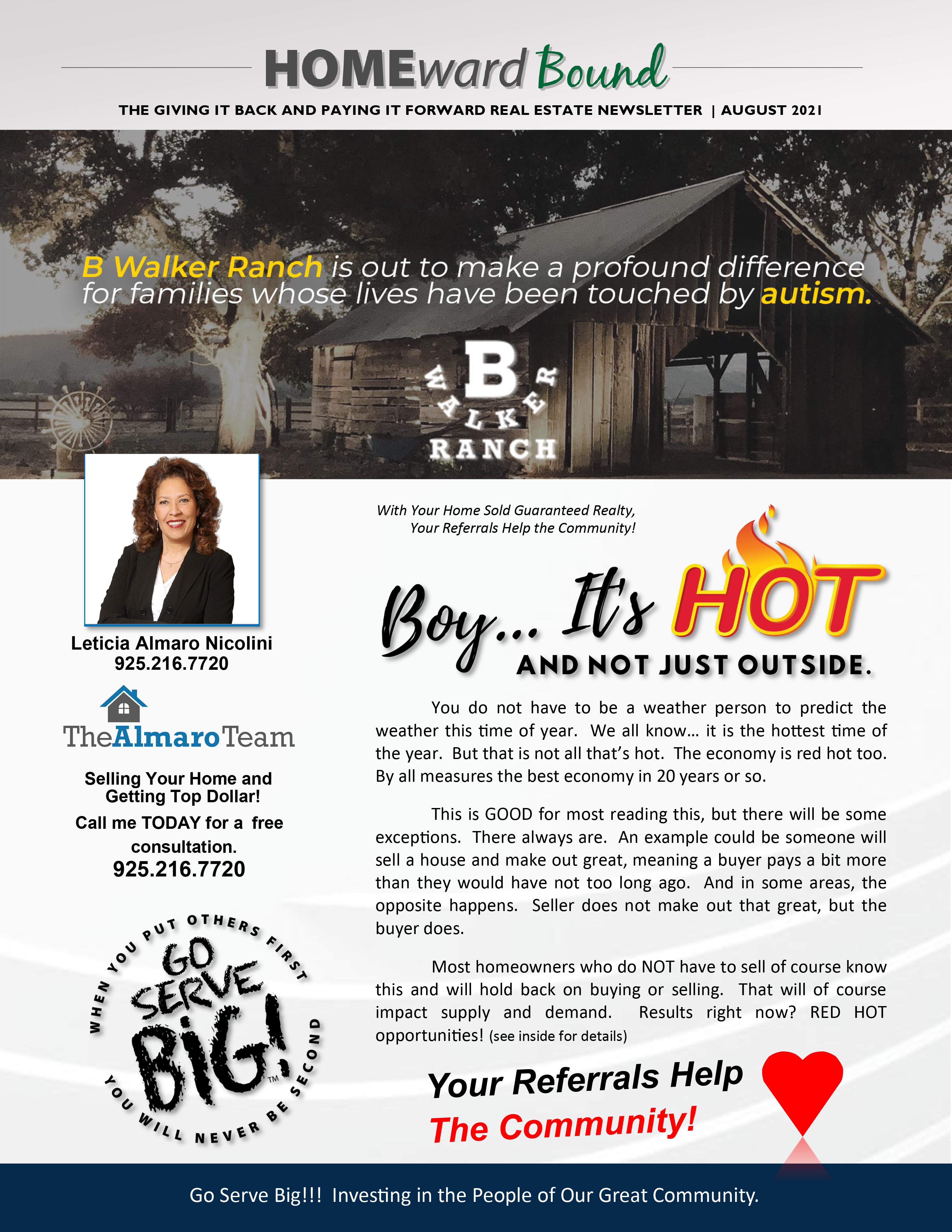 ---