Thursday, June 1, 2023 / by Emman Cristobal
Happy Father's Day


You guessed it! June 18th is Father's Day. Like Mother's Day, Father's Day is a time to show our appreciation for parents' hard work and dedication in providing the best home life possible for their families. Since you have been kind enough to be a part of our business, I wanted to take this opportunity to give YOU something for Father's Day. I'm not talking about another tie, or BBQ tool kit. I have TWO far more valuable gifts! Yes, TWO!
Gift #1 is my lifetime home sale guarantee.
Your Home Sold, Guaranteed, at Your Price or I'll Buy It* Yes, this is the guarantee I am most famous for. Rest assured that whether it's a dynamic seller's market or a housing recession, I will never waiver from this guarantee. The peace of mind from a guarantee like this, is a gift I am happy to give. I can think of none better. My team and I are committed to results. In fact, being results oriented is one of our core values. For more than two decades people have been coming to us when they want their home sold, at their price and with the least amount of hassle. We look forward to the next 25 years of guaranteed results for our area homeowners.
Gift #2… Donations to B Walker Ranch on Your Behalf.
In last month's letter, I updated you on our goal of raising $10,000 for B Walker Ranch this calendar year. In case you missed it, we donate a portion of our income from home sales to B Walker Ranch. They have developed a variety of programs for adults with autism, designed to foster self-advocacy by recognizing their individual needs, and harvesting a sense of purpose within a farm environment. B Walker Ranch depends on sponsorships and donations to continue their valuable programs serving adults with autism. Since that letter, we have received 7 referrals. That's 7 families wanting to buy or sell a home, referred to us by you. And when their escrows close, we will be contributing more money towards this very worthy cause.
YOUR REFERRALS HELP THE COMMUNITY! Keep them coming
OUR GUARANTEE to you, your friends, and family—
In the month of June, for anyone you refer to me who is considering making a move, I will guarantee in writing that their home will sell or we will buy it at a price acceptable to them. We just need to agree on the price and possession date with the seller. This is where you can help!
There is some risk on my part in making such an incredible guarantee, but we are selling just about every home we list for market value, sometimes more, so there is no reason for any homeowner to fret about selling right now.
HAVING PEACE OF MIND AND GETTING TOP DOLLAR FOR YOUR HOME IS WHERE EXPERIENCE COUNTS!
As a result of working with over 5,000 families during my 20+ year career and through three documented recessions, we have developed a special market proof program to quickly get an acceptable cash offer on any home at market value.
IF YOU OR A FRIEND ARE THINKING ABOUT SELLING, MAKE SURE TO CHOOSE A REAL ESTATE TEAM YOU CAN TRUST!
A real estate team with experience, proven results and a give-back philosophy!

This is where you come in… If you or anyone you know is considering making a move, we would like to offer them a FREE No-Obligation-to-Sell Consultation to discuss just how they can make their move, get what they want and do it with the least amount of hassle.
Just like we are thankful for you and your business, I am confident your referrals will be thanking you for steering them in the right direction to getting their home sold!!!
AND please remember, your REFERRALS help those in need!
A Real Estate Team that Gives Back
Go Serve Big!!!
Leticia Almaro Nicolini
& The Almaro Team
925-216-7720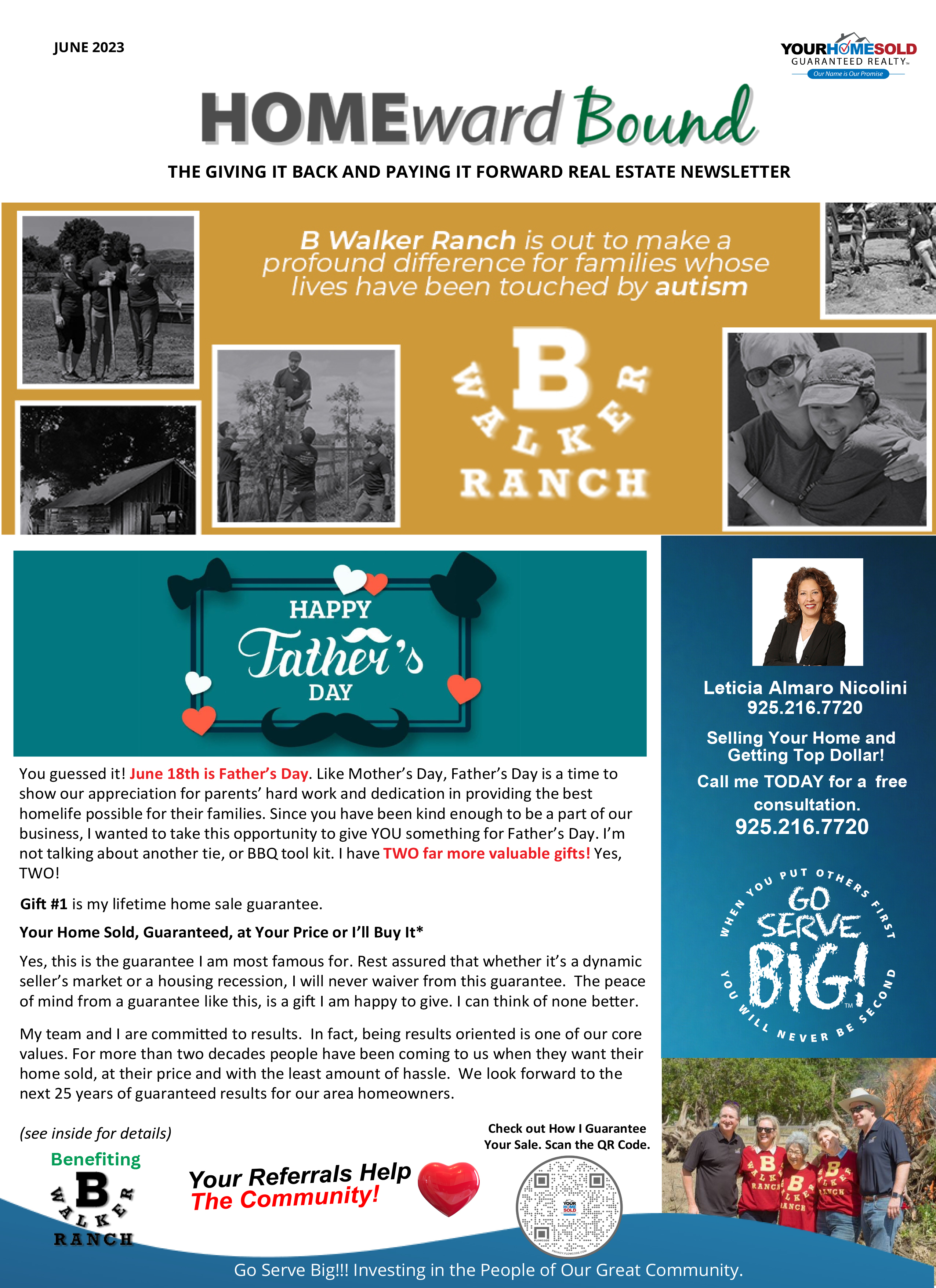 ---